When it comes to networking and making connections, nothing screams old school like handing out a crisp business card.
That said, it's important to design a modern and uncluttered card that still features all of your essential contact info.
When you hand your business card to another professional, you want to impress them straight away.
Cluttering the face of the card with a ton of social icons and social media links isn't a good look.
Fortunately, there are several ways to create a professional-looking business card optimized for the future.
Why Do Business Cards Need Social Media?
Like it or not, social media is thing. Having a solid social media profile makes you look more professional, but more importantly, it makes you easier to connect with.
Just like some folks prefer emailing, calling, or texting, there are quite a few others who prefer to checking out your socials first.
On your social media page, they can find more of your business info and business news on their own, such as your address, products, and services.
Moreover, having your socials on your business card can help you establish more long-term relationships.
The easier it is for individuals to find your business information, the more likely you are to acquire their business.
How To Put Social Media on Business Cards
Designing cardstock business cards can be challenging, so many independent professionals rely on graphic designers or DIY sites like Vistaprint.
You'll want a stylish look that matches the aesthetic of your business, and you want to make sure all the pertinent information is laid out in an easy-to-follow, straightforward way.
What follows are several easy ways to optimize your layout with your socials.
Tip 1: Using Social Media Icons
Adding social media logos are one of the most popular ways to add your social media links to business cards.
They are quick, efficient, easily identifiable, and can add to the aesthetic of your card.
However, there are right and wrong ways to add social media icons to your business cards.
You'll want to make sure the social media icons are perfectly sized, not taking away from the text on the card.
It's also important to ensure all of your socials are lined up in the same area, making them easy to see.
The last thing you'd want is your Facebook logo on the bottom left of the card, while your TikTok logo is at the top right.
It can also be tempting to alter the design of social media icons to fit into your business card's aesthetic.
However, it's much better to leave the basic design of the logo as is.
If you absolutely must make changes, limit yourself to changing the color of your icons. Leave the overall design as is.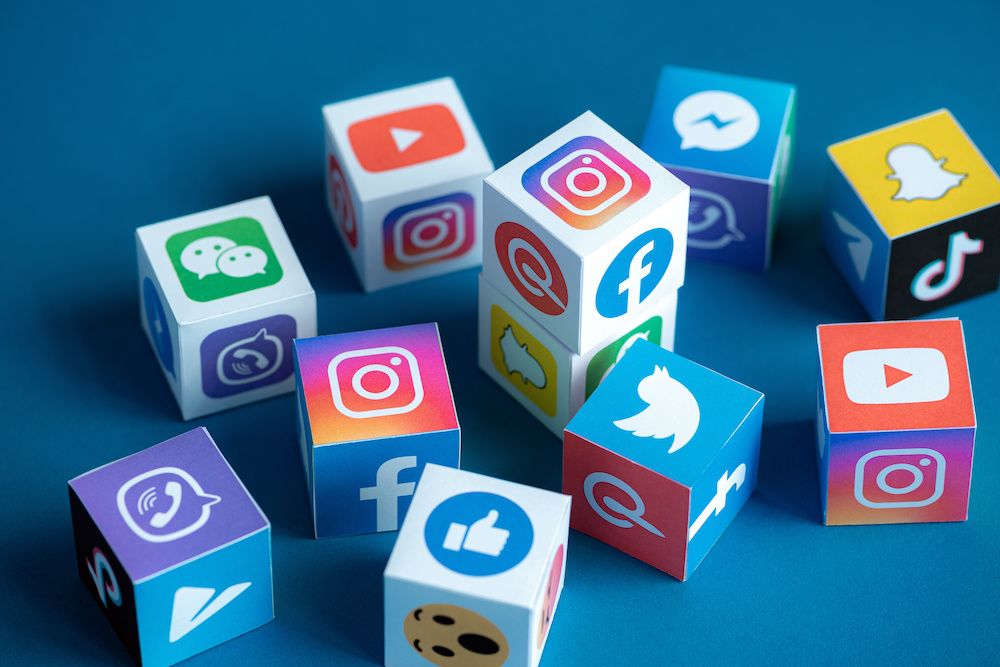 Tip 2: Mastering the Use of "@"
The "@" symbol is the most beneficial aspect of social networks you'll want to use when designing a business card.
In most instances, you'd put this symbol before your username, which indicates where they can find your page.
For example, if you're a hairstylist, you could have "@MarioHair" on your business card.
Using the "@" symbol is essential because it's concise, clean, and easy for others to understand.
It takes up far less space than a full URL when placed beside the proper logo for your social media pages.
Also, having the same social media handles across all platforms makes directing others to your socials much simpler.
Tip 3: Using Social Media Abbreviations
Another fantastic tip to use when adding social networks to your business cards is to start researching abbreviations.
This step is particularly important for independent professionals with multiple social media pages.
Listing each of your socials using the company's full name can be bulky and will surely clutter a creative business card design.
If you're not interested in using the logos for each social media page, abbreviations can be ideal.
You'll often find that this is a better option for more corporate-minded professionals looking for a more business-friendly card design.
In comparison, using logos and other images is better for creative professions.
A few examples of abbreviations you'll likely want to add to your custom business card design include:
Instagram: IG

X (Twitter) : X

YouTube: YT
With these abbreviations, you'll have a clean way to display your social media profiles on print material.
It can also take away some of the bulk after adding your entire handle for social media channels.
Not to mention, abbreviations can look more professional than icons on business cards.
Tip 4: Avoid Long URLs
As you can tell, the most important part of adding social media to your business cards is to keep the design simple.
You're going to want to avoid using long URLs, which can create confusion and clutter.
This is one of the main reasons why using the "@" symbol followed by your username can be helpful.
That said, there are certain instances where URLs are necessary, such as your business website.
In these cases, you can use URL shorteners like bit.ly or cutt.ly to reduce the total number of characters on your card.
Tip 5: Create a Dedicated Social Media Section
When designing your business card, all relevant information must be easy to find.
With this in mind, it's a good idea to add a dedicated section on your business card specifically for your social media.
For example, allocate your business card's bottom right segment to list all of your contact information.
Using this tip can make it easier for a potential customer to quickly find the information he needs.
They won't have to scan through all of the text on your business card, increasing their chances of reaching out.
Tip 6: Create a Streamlined Color Palette
The colors on your business card are equally as important as your email address, personal branding, job titles, and business slogan.
In fact, the color palette you choose is one of the first things people will see when receiving your card.
As such, it is important to choose a neutral palette that works well with your social media icons.
Instead of opting for a bold, gold glitter business card, why not choose an iridescent business card with dark-colored collections of icons?
Alternatively, you can pick a light-colored background with hand-drawn icons in shades of green, brown, or beige.
The more cohesive your color palette, the more effectively presented your business card will be.
Simplicity Is King!
Learning how to put social media on business cards is one of the most important steps to establishing your brand identity.
With the right design, you can put your most professional foot forward while futureproofing your networking.
These tips are sure to prove useful, whether you design your business card yourself or rely on a professional designer to help.