Learning how to add Google Business Profile social links (formerly Google My Business) has never been more important for independent professionals.
Whether you're just getting started or looking for more clients and patients, accessible socials are imperative.
They help boost brand visibility, and they can also give potential customers more information about your services.
This guide will explore how you can add social media to your Google Business Profile listing.
We'll also discuss the importance of visibility in local searches, online reviews, and easy-to-find social media accounts.
What Are Google Business Profile Social Links?
As their name suggests, the social media links on your Google Business Profile page direct traffic to your social media pages.
When customers and clients search for independent businesses on Google, ample data shows up on the search engine result page.
They will find the following information:
Having your social media pages accessible in this same area can generate plenty of traffic.
You'll find that local searchers and customers in your immediate area will gravitate to your Facebook, Instagram, and Twitter to learn more about your services.
This is particularly important for service-oriented businesses that use their socials to book appointments, answer questions, and connect with their audience.
With how important Google Business Profile social links are, it's surprising that they are not as easy to add as you'd think.
When navigating through your Knowledge Panel, there isn't a specific field for a social media footer link (where you edit your Google Business Profile content).
Interestingly, Google relies on its algorithm to collect data about your social pages based on the authority and relevance of your business.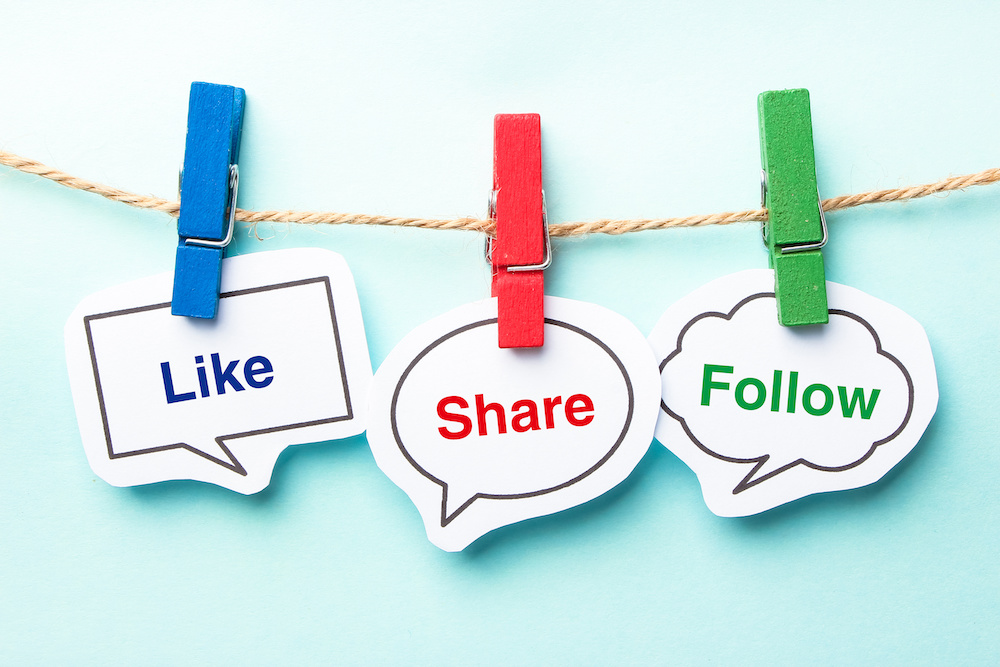 How To Add Social Media to Your Google Business Profile
Although it would be mountains simpler to be able to add them yourself, Google Business Profile social links don't exactly work that way.
Instead, the algorithm will attribute your business profiles to your search results based on authority.
Because of this, it's time for you to sink more time into developing your online brand awareness.
You will want to make sure information about your independent business is accessible and that it's also ranked as an authority.
You can take several steps to begin the process before waiting for your social media pages to be added.
Tip 1: Create Consistency
One of the most important benefits of adding Google Business Profile social links is improved consistency.
You will want to list all the sites and pages related to your business.
Is the information consistent and easy for Google's algorithm to understand on each of these pages?
The most important things to consider include:
Business Name
Your business name is critical, especially if you are a sole proprietor.
You'll want to ensure it's the same across all of your social media pages and your Google business listing.
This process helps connect the entirety of your online presence.
Website Address
Always ensure the website listed in your Google Business Profile is the same as the authentic site for your company.
Doing this ensures your traffic is directed correctly and speaks for your business's authenticity.
Category and Description
Is the Google Profile description for your company the same as what's advertised on your socials and website?
You'll also want to ensure your business is listed within the right niche.
Contact Information
The final important field where consistency is key is all of your contact information.
Check that your business phone number is the same as what's in your Google Business Profile.
Also, your physical address should be identical to your online listing.
Tip 2: Adding Social Media Profile Links to Your Website
Google relies on its algorithm to determine whether it can add your socials to your Google Business page.
You'll want to make sure you directly connect to your social media icons through your business site.
Otherwise, the algorithm won't be able to attribute specific social pages to your online business.
One of the best ways to do this is to add a footer on your business website that contains all your links.
You'll also want to check that your social profiles are consistent across your entire site, adding to its legitimacy.
To check that this step works, it's important that your Google Business profile directly links to your business site.
The more connections between the URL in your GMB listing and your social profiles, the better.
It helps establish a stronger relationship between search engines, your website ownership, and your social media properties.
Tip 3: Using Schema Code
So this is where we get into the geekery a little. As an independent professional, learning the ins and outs of website design can be time-consuming and challenging.
That said, working with schema data is best left to the professionals, as it can be pretty technical.
Schema data is essentially code that is visible to Google's bots but invisible to people visiting your site. Basically, its job is to hold Google by the hand and say "this is what I want you to know about what you're looking at."
It helps establish an even stronger relationship between your Google Business Profile listing, social media, and your website.
Most often, the code is placed in the header section of your site so that it's one of the first areas of code indexed.
If you want to roll up your sleeves and get really hands-on with your site, there are several tools you can use to create your own schema data for your Google Knowledge Panel, such as Google Webmaster Markup Helper.
You'll find a section known as "sameAs," which is the most important within the code.
In this area, you will need to add all of your third-party links to your social media profiles.
It is also important to test the code to ensure it's working before indexing your site.
Tip 4: Work on Your Social Media Following
Even if your website ranks as an authority page, it's important to focus on your social media profiles and company updates.
You'll want to make sure your posts gain plenty of traffic, speaking to their legitimacy.
This element is one of the most challenging parts of the project, especially for independent professionals still growing their audience.
There aren't specific criteria to follow to make Google more likely to check your social media pages.
Your best bet is to look at your competitors and set that as your benchmark.
Always work towards creating engaging, high-quality content that will pull more followers in.
Boosting Your Online Presence
If you want to learn more about the benefits of adding Google Business Profile social links, go to https://chriscarter.net/appointments, and let's hop on a call to get you moving in the right direction.
With a little professional guidance, you can establish a stronger relationship between your Google Profile results and your socials.
After all, would you rather spend time playing with social media or focusing on customers?